ABOUT
Impact Production's Brand Manager software is an integrated platform of tools for centralizing your branding collateral and marketing campaigns. Our service will transform the way your company collects and distributes promotional strategies. Our team will build you a custom hub that brings your entire workforce to one spot where you can deliver brand messages with speed and agility to your target audience. Give your team access to all the marketing tools they need to run successful advertising while preserving your brand's core values.
Brand Management

Digital Storefront for Marketing Content

Local Customization of Data

Distribution with a Click

Print On-Demand & Fulfillment

Training & Support

BRAND MANAGEMENT
Capture, unify and activate your data all in one place. House all of your marketing content in a centralized location for your team to retrieve and distribute quickly. Preserve your brand equity across all channels and media. Access your own personal branding agency to execute campaigns.
DIGITAL STOREFRONT
Feature your company's products for download or sale. Streamline procurement, management and distribution.

DISTRIBUTION WITH A CLICK
Boost productivity by shortening time to ground for your marketing campaigns. Shorten the speed of your message delivery to your audience.

INTEGRATED PRINT-ON-DEMAND
Save your team time from sourcing print projects. Customize and print only what's needed. Pay and track orders all within the same application.

FLEXIBILITY TO LOCALIZE
Generate local demand with our easy-to-use suite of tools. Customize marketing collateral per location so they can be more effective at developing relationships with both consumers and local businesses.

INITIATIVE PARTICIPATION SURVEY
Simplify your team's engagement process with a customized digital way to deliver company-wide alerts on upcoming initiatives, information gathering surveys for opting in or out of company promotions and ordering branded material for local franchises or stores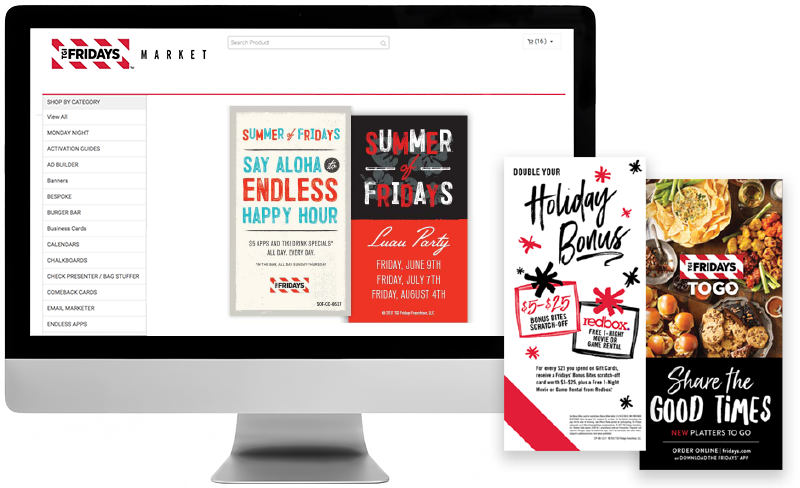 Impact Production's Brand Manager offers a centralized solution to grow your business. We'll create a custom storefront styled with your branding where your team can access all marketing products and communications. Or your company can use it as an internet-based shopping environment that is customer-facing.
Download Print Marketing:  customizable flyers, brochures, direct mail postcards, tradeshow materials, in-store/POP materials
Promote Outdoor Branding:  signage, banners, door/window clings, billboards
Access In-House Branding:  business cards, letterhead, notecards, envelopes, name badges, uniforms
Customizable Templates:  advertisement, menu maker
Automate Marketing Campaigns for Print and Digital Use
Utilize storefront as eCommerce store that sells your brand wares 24/7 from any location worldwide
MORE THAN SOFTWARE
Discover the package that's right for your company. We offer bundles for any sized company looking to centralize and get more ROI from their marketing efforts. Scale with the growth of our business. Add users when needed. With each package, you get our team's expertise and support to launch your digital storefront and help keep you on track. As an incentive for printing directly with us, initial set-up fees will be waived. We'd love to talk to you about pricing, products to upload, implementation and more. We're ready to help.